Peganum harmala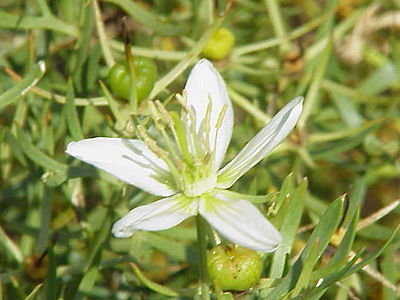 Wikipedia description
Peganum harmala, commonly called esfand, wild rue, Syrian rue, African rue, harmel, or aspand (among other similar pronunciations and spellings), is a plant of the family Nitrariaceae. Its common English-language name came about because of a resemblance to rue (which is not related). The plant's seeds are especially noteworthy because they have seen continual use for thousands of years in the rites of many cultures. The plant has remained a popular tool in both folk medicine and spiritual practices for so long that some historians believe the plant may be the ancient "soma" (a medicinal aid that is mentioned in a variety of ancient Indo Iranian texts but whose exact identity has been lost to history).
It is a perennial plant which can grow to about 0.8 m tall, but normally it is about 0.3 m tall. The roots of the plant can reach a depth of up to 6.1 m, if the soil where it is growing is very dry. It blossoms between June and August in the Northern Hemisphere. The flowers are white and are about 2.5–3.8 cm in diameter. The round seed capsules measure about 1–1.5 cm in diameter, have three chambers and carry more than 50 seeds.
Peganum harmala is of Asian Origin and grows in the Middle East and in part of South Asia mainly in India and Pakistan. It was first planted in the United States in 1928 in New Mexico by a farmer wanting to manufacture the dye "Persian red" from its seeds. Since then, it has spread invasively to Arizona, California, Montana, Nevada, Oregon, Texas and Washington. "Because it is so drought tolerant, African rue can displace the native saltbushes and grasses growing in the salt-desert shrub lands of the Western U.S."
Scientific classification
Clade:
Core Eudicots/Rosids
Samples