Pinguicula caudata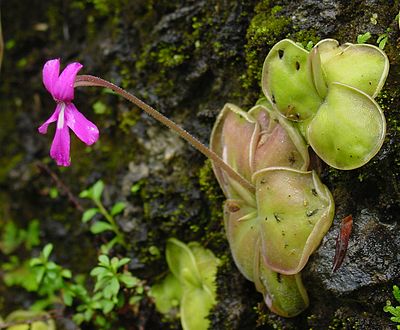 Wikipedia description
Pinguicula moranensis is a perennial rosette-forming insectivorous herb native to Mexico and Guatemala. A species of butterwort, it forms summer rosettes of flat, succulent leaves up to 10 centimeters (4 in) long, which are covered in mucilaginous (sticky) glands that attract, trap, and digest arthropod prey. Nutrients derived from the prey are used to supplement the nutrient-poor substrate that the plant grows in. In the winter the plant forms a non-carnivorous rosette of small, fleshy leaves that conserves energy while food and moisture supplies are low. Single pink, purple, or violet flowers appear twice a year on upright stalks up to 25 centimeters long.
The species was first collected by Humboldt and Bonpland on the outskirts of Mina de Morán in the Sierra de Pachuca of the modern-day Mexican state of Hidalgo on their Latin American expedition of 1799–1804. Based on these collections, Humboldt, Bonpland and Carl Sigismund Kunth described this species in Nova Genera et Species Plantarum in 1817. The extremely variable species has been redefined at least twice since, while several new species have been segregated from it based on various geographical or morphological distinctions, although the legitimacy of some of these is still debated. P. moranensis remains the most common and most widely distributed member of the Section Orcheosanthus. It has long been cultivated for its carnivorous nature and attractive flowers, and is one of the most common butterworts in cultivation.
The generic name Pinguicula is derived from the Latin pinguis (meaning "fat") due to the buttery texture of the surface of the carnivorous leaves. The specific epithet moranensis refers to its type location, Mina de Moran.
Scientific classification
Clade:
Core Eudicots/Asterids
Species:
Pinguicula caudata
Samples