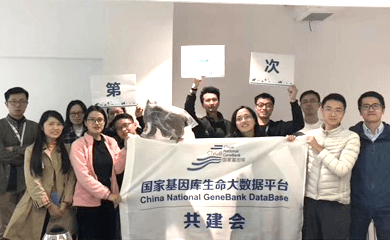 China National GeneBank DataBase (CNGBdb) has gained extensive attention and blessings since its launch in october 2018. Meanwhile there are also doubts and dissatisfaction. Fortunately, along with your help all the way, not only pointed out bugs, but also gave a lot of excellent suggestions, CNGBdb is no longer groping in the dark, but with a beacon.
To appreciate the users for your valuable comments and suggestions during the process of CNGBdb's construction, we have provided the contribution wall for commemorating your contribution to CNGBdb.
Please continue to support CNGBdb. The suggestions for CNGBdb can be sent to us through the feedback button on the right side of the homepage. The contributors' names will be given record on the contribution wall.
Hope with your support on the way to the future. Let us make joint effort to improve CNGBdb and bring more value to scientific research users.
Contribution wall(Names not listed in order)
林宇翔(Yuxiang Lin)
蒋炜(Wei Jiang)
黎盼怡(Panyi Li)
杨涛(Tao Yang)
欧阳楚镇(Chuzhen Ouyang)
黎剑波(Jianbo Li)
李甫强(Fuqiang Li)
王雪兵(Xuebing Wang)
张昭(Zhao Zhang)
周静(Jing Zhou)
肖鹏(Peng Xiao)
龚小龙(Xiaolong Gong)
巫文才(Wencai Wu)
阮婕(Jie Ruan)
刘伟(Wei Liu)
陈佳诗(Jiashi Chen)
张睿(Rui Zhang)
杨献伟(Xianwei Yang)
潘火珍(Huozhen Pan)
王增(Zeng Wang)
吴晓冲(Xiaochong Wu)
罗浩彬(Haobin Luo)
蒙冠良(Guanling Meng)
施建文(Jianwen Shi)
潘高(Gao Pan)
邵云嫦(Yunchang Shao)
王爱军(Aijun Wang)
范飞(Fei Fan)
郭瑞东(Ruidong Guo)
雷晓娟(Xiaojuan Lei)
王佳(Jia Wang)
姜恬(Tian Jiang)
李世明(Shiming Li)
李凡(Fan Li)
刘国强(Guoqiang Liu)
周洋(Yang Zhou)
王红(Hong Wang)
张昭(Zhao Zhang)
平质(Zhi Ping)